Stanley Tucci
American actor, writer, producer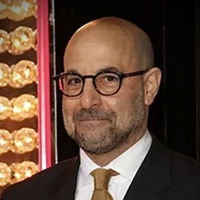 Actor Stanley Tucci was born on November 11, 1960, in Peekskill, New York. He is the son of Joan (Tropiano), a writer, and Stanley Tucci, an art teacher. His family is Italian-American, with origins in Calabria.
Tucci took an interest in acting while in high school and went on to attend the State University of New York's Conservatory of Theater Arts in Purchase. He began his professional career on the stage, making his Broadway debut in 1982, and then made his film debut in Prizzi's Honor (1985).
In 2009, Tucci received his first Academy Award nomination for his turn as a child murderer in The Lovely Bones (2009). He also received a BAFTA nomination and a Golden Globe nomination for the same role. Other than The Lovely Bones, Tucci has recently had noteworthy supporting turns in a broad range of movies including Lucky Number Slevin (2006), The Devil Wears Prada (2006) and Captain America: The First Avenger (2011). Tucci reached his widest audience yet when he played Caesar Flickerman in box office sensation The Hunger Games (2012).
While maintaining an active career in movies, Tucci received major accolades for some work in television. He won an Emmy and a Golden Globe for his role in TV movie Winchell (1998), an Emmy for a guest turn on Monk (2002), and a Golden Globe for his role in HBO movie Conspiracy (2001). Tucci has also had an extensive career behind the camera. His directorial efforts include Big Night (1996), The Impostors (1998), Joe Gould's Secret (2000) and Blind Date (2007), and he did credited work on each screenplays with the exception of Joe Gould's Secret (2000).
Tucci has three children with Kate Tucci, who passed away in 2009. Tucci married Felicity Blunt in August 2012.
In 2021, Tucci hosted the culinary travel series, Stanley Tucci: Searching for Italy, a six-part original CNN series following him on a food tour of Italy. On May 21, 2021, Tucci received a Doctorate Honoris Causa in Humane Letters from the American University of Rome, in Rome, Italy, for his lifelong contribution to the arts and humanities. In September, Tucci was cast as Grammy-winning producer Clive Davis in I Wanna Dance With Somebody, a biopic on Whitney Houston. The series received two Primetime Emmy Award nominations, including one for Outstanding Hosted Nonfiction Series, and was renewed for a second season.
In September 2021, Tucci revealed he was diagnosed with cancer three years prior. He received treatment after a tumor was found at the base of his tongue but said it was unlikely that the tumor would return. In October, 2021, his memoir Taste was published, which describes his encounter with cancer and his love of food.
---
Sherry Lansing
CEO, The Sherry Lansing Foundation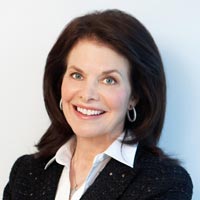 Sherry Lansing is the founder and CEO of the Sherry Lansing Foundation, a philanthropic organization focused on funding and raising awareness for cancer research, health, public, education, and encore career opportunities. Ms. Lansing previously served as Chairman and CEO of the Motion Picture Group of Paramount Pictures from 1992 to 2005. Lansing is the founder of the EnCorps Teachers Program, which retrains retired and mid-career professionals from the technology sector to serve as math and science teachers in California public schools. She is also the founder of PrimeTime LAUSD, which engages retirees in improving the state of public education through targeted volunteerism. She is a co-founder of the Big Sisters of Greater Los Angeles Future Fund, which provides college scholarships to deserving "Little Sisters." Lansing currently serves as Chairperson of the Entertainment Industry Foundation's Board of Directors. She also serves on the boards of The Lasker Foundation, the American Association for Cancer Research Foundation, the American Cancer Society Cancer Action Network, the Carter Center, Encore.org, and the W.M. Keck Foundation, as well as on the Executive Committee of Friends of Cancer Research. Lansing lends her energy and talents to the American Red Cross Board of Governors and STOP CANCER. Additionally, Lansing is a Regent of the University of California and a member of the Independent Citizens' Oversight Committee (ICOC) of the California Institute for Regenerative Medicine. Lansing graduated cum laude with a Bachelor of Science Degree from Northwestern University in 1966. With her extensive high end business background, and her considerable expertise in the non-profit world, especially as one of the founders of the very important and effective Stand Up 2 Cancer organization, Ms. Lansing brings significant assets to helping OCF. Her input as we grow is invaluable, and her opinions about our direction and non-profit stewardship will help us chart clear and effective courses of action in the future. OCF is very lucky to have Ms. Lansing agree to join our efforts.
---
Lisa Paulsen
CEO, Entertainment Industry Foundation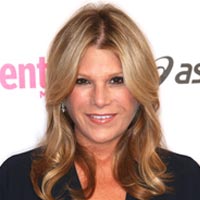 Lisa Paulsen is President and CEO of the Entertainment Industry Foundation (EIF), the collective philanthropy for the television and film businesses. She engages support from the industry's leadership, with CEOs and other senior executives from the major studios, networks, talent agencies and guilds the organization, serving on EIF's board of directors. She also enlists some of Hollywood's most celebrated performers to volunteer their time and talent in support of EIF's work. During Lisa's tenure as CEO, EIF has raised more than $800 million for charitable causes, with a significant portion of that going to cancer research, awareness, prevention and treatment programs. EIF grants have accelerated scientific breakthroughs such as the breast cancer therapy Herceptin®, which was approved by the FDA far in advance of the timeframe initially anticipated. Lisa has driven the launch of other EIF initiatives, including iParticipate, created to inspire more Americans to volunteer in their communities; and Rise and Honor, which raised funds for organizations that provide vital services for veterans and their families. With her exceptional strengths in non-profit governing, and in building effective programs that yield end metrics without match; as she did as a founding member of the extraordinary Stand up 2 Cancer effort, Ms. Paulsen has already given OCF advice that has changed the internal structure of our organization and realigned how we choose directions. Her advice and counsel has aided us in building our brand, and properly allocating assets to both build our organization's capabilities, while at the same time enhancing our missions and accomplishments. Her insights from the many years she has spent building The Entertainment Industry Foundation have given OCF direction that would have taken years for us to discover and implement. We are grateful for her willingness to help and guide us.
---
Blythe Danner
Actress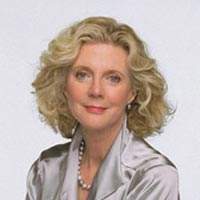 Initially a theater player, she earned a Tony for her Broadway debut as a free spirit in the drama Butterflies Are Free. Ms. Danner has worked consistently in big screen, TV, and on Broadway for many decades, except for a self-imposed hiatus to raise her children Gwyneth and Jake Paltrow with TV-producer husband Bruce Paltrow in the '80s.  Of all of her many roles and successes, she has never regarded herself as a "star," though her work has received much critical acclaim. In the 2000's, at an age when Hollywood is often not kind to female actors, a series of high-profile maternal roles brought her more awards—and more fame—than ever. She was charming as Robert De Niro's wife in the 2000 hit comedy Meet the Parents, and a recurring role as Will's blueblood mom on Will & Grace earned her a pair of Emmy nods. Her part on Huff as the title character's eccentric mother finally won her industry recognition in the form of two consecutive Emmy Awards. She has not slowed down a bit, with role after role coming her way still today.
Unfortunately her career boom was bittersweet as it coincided with the death of her husband in 2002. After the loss of her husband Bruce Paltrow from oral cancer, she became involved with the Oral Cancer Foundation, and partnered with us to form the Bruce Paltrow Oral Cancer Fund. In 2005, she filmed a public service announcement that played on TV stations around the country about the risks associated with oral cancer, and through that shared the personal pain associated with the loss of her husband publicly to further awareness of the disease and the need for early detection. That PSA tracked 33 million viewer impressions, and was a huge success. She continues to donate her time to the foundation, and has appeared on morning talk shows, Katie Couric, and others while also doing print interviews in high profile magazines such as People to further public awareness of the disease and its risk factors. Through The Bruce Paltrow Oral Cancer Fund, administered by the Oral Cancer Foundation, she and her family continue to fund and raise awareness for oral cancer issues, particularly those involving communities in which disparities in health care exist. The fund has also helped OCF elucidate the roll of HPV in causing the disease through its sponsorhip of researchers the foundation is affiliated wth, and efforts by her daughter Gwyneth Paltrow have generated the largest single grants to OCF which have funded, research, PSA productions, and the complete rebuild of the OCF web site to a more mobile friendly and content rich experience. Her activism and fidelity to OCF and the oral cancer cause continue to have profound affects on OCF's ability to accomplish our missions.
---
Michael Douglas
Actor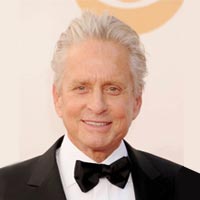 Michael Douglas is an American actor and producer, primarily in movies and television. He has won four Golden Globes, including the Cecil B. DeMille Award, two Academy Awards—as producer of 1975's Best Picture, One Flew Over the Cuckoo's Nest and as Best Actor in 1987 for his role as Gordon Gekko in Wall Street, and an Emmy Award in 2013 for his portrayal of Liberace in the HBO film Behind the Candelabra. Other performances include The Game, Wonder Boys, Traffic and Falling Down. Douglas received the AFI Life Achievement Award in 2009. His body of work is prolific, and he continues today to be engaged in his craft as both an actor and producer. Clearly he is a Hollywood success by any standards. After his diagnosis in 2010 with an advanced oral cancer on the base of his tongue, Mr. Douglas was treated with radiation and chemotherapy, and with this now behind him he has generously become an advocate for early discovery of the disease. After a long and difficult battle, Mr. Douglas is now cancer free and in good health. He continues to have regular check-ups to monitor his remission.
In 2012 he appeared in a public service announcement (PSA) produced by the Oral Cancer Foundation which spoke to the need for early discovery and public knowledge of the warning signs of the disease. The PSA was aired on stations around the US over a 4 month period and was tracked at 40 million viewer impressions during its run. He has appeared on numerous TV talk shows to advocate for public awareness, using his own journey to illustrate how dangerous this disease can be. The Foundation is indebted to Mr. Douglas for partnering with us in the battle against oral cancer; he is a highly visible, well known actor, and a consummate professional. Those qualities, when coupled with his personal cancer experience, yield a respected voice to this fight. His willingness right from the beginning of his journey, to openly talk about his difficult personal experience with oral cancer on TV and in print, has certainly created awareness in the public of a cancer too few have even heard of. That impact will be multiplied through this partnership with the foundation, and translate into increased early recognition of problems, avoidance of risk factors, and participation in annual opportunistic screenings by the public. His involvement will create a tipping point that will ultimately save lives. We are proud that he has partnered with us, and agreed to be an advisor to OCF in our continuing fight against this disease.