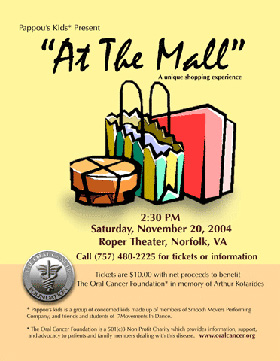 Picture a performance in a hall of 1,000 seats, only a little more than 200 of which are filled, and you probably think of a stage disappointment. But triumphs can occur in unexpected venues, and so it was in late November when 12 students of dance performed their best and gave the proceeds to help others in memory of a man they'd loved.
"Someone was watching over us," said Hero Barker, 40, owner and instructor at 7Movements In Dance studio in Norfolk, VA. "They danced their little hearts out."
The dancers call themselves "Pappou's Kids," in honor of Arthur "Pappou" Kotarides, Barker's father, who died in August of 2003 of complications following surgery for oral cancer. "Pappou," Greek for "grandpa," doted on Barker's students, and it was his presence Barker felt during the benefit performance of more than 20 dance numbers that her students and friends had practiced hard to stage.
"I want to help because of families in need, because I don't know what I would do if I lost a family member who meant so much to me to cancer," said dancer Kayla Lovett, 14. "Cancer is not a very good thing, and I really feel bad for anyone who is faced with it or has a family member who has been faced with cancer."
Lovett and her fellow dance students had watched as their beloved Pappou fought oral cancer, and as their teacher struggled to help her father in his battle. Many of the students knew Pappou as another grandfather figure.
"He was the type of person to whom no child was a stranger," said Barker 40. "He just adopted everybody."
Arthur Kotarides was a jack-of-all-trades, putting everything to right with his capable hands. He worked as an electrician, plumber, and carpenter. He was a mechanic at a Norfolk-area bakery, owned a car wash for a while, worked in the Norfok naval base's finance department, and repaired televisions on the side.
When Barker realized her dream 10 years ago of opening a dance studio, it was Pappou who helped install the proper flooring, the barres, the mirrors. Pappou was there to welcome Barker's first students, encourage them in their practice, crack jokes during their rehearsals, cheer their performances. When productions required set pieces or props, Pappou built and painted them.
"He was genuinely interested in what the kid were doing, and they knew that," said Barker. "And he was always around."
But in 1999, Pappou was diagnosed with oral cancer and underwent chemotherapy and radiation. It was his beloved students' turn to lend support. They watched as he battled the cancer into remission, watched as their teacher fought by his side.
"He was pronounced clear—the tumor went away," said Barker. "But of course they kept checking him. It wasn't until the beginning of 2003 that he was rediagnosed. He couldn't undergo radiation again, so his doctor recommended surgery."
It was during this time that Barker found The Oral Cancer Foundation online and began taking advantage of the site's forum area to get information and support from cancer survivors and from fellow caregivers.
"I remember thinking then—and I still do think—that I wish I'd found that site earlier," she said. "Because you hear from patients who've had it (oral cancer), you hear from caregivers who've dealt with it, and because they're from all across the world, you get all sorts of helpful information that comes from the caregiving perspective."
Barker's father underwent surgery at age 77 in June of 2003. But two months later he developed a staph infection that triggered a heart attack, from which he didn't recover. Barker and her students were devastated. Some of the girls had known Kotarides for much more than half of their lives. The loss went far beyond words; it begged for physical expression. And so they turned to what they knew: dance. The 12 members of Smooth Movers Performance Company, the performing arm of 7 Movements in Dance, began creating their own dance numbers in memory of Pappou. For a year they worked to perfect the pieces, rehearsing and tinkering until they were satisfied. But soon the question arose of how to present the pieces in a way that went beyond the studio and the stage. Barker and her students wanted to make a greater contribution in memory of the man who had given them so much.
One day, Barker had an idea: They could present their dance creations in a performance to benefit Newport Beach, Calif.-based The Oral Cancer Foundation, which had given her and her father so much support and information. Barker contacted Oral Cancer Foundation founder Brian Hill, himself a five-year oral cancer survivor, and told him of her plan.
"I thought I needed to do something," Barker said. "And I knew that Brian was on a shoestring with the site, and that it's doing so much good."
Hill was touched—and intrigued. "At first I thought 'Oh what a wonderful gesture,'" he said. "But then I also thought about what kids can learn when they do something to benefit people they don't know, in memory of someone they loved."
Oral cancer, which claims a victim each hour of every day, kills more people in America than those dying from more recognizable forms of the disease, such as prostate and cervical cancers. Lack of knowledge about oral cancer is what prevents the quick, routine screening that would drastically reduce its death toll. Hill founded the Oral Cancer Foundation to spread awareness, support patients and caregivers, and promote routine screening by dentists and doctors. He jumps for any likely looking opportunity to further the cause—so when he heard from Barker, he got right to work.
Hill crafted posters, tickets and donation envelopes for the benefit, titled "At The Mall: A Unique Shopping Experience." And he immediately put Barker in touch with Minnie Ashworth, another Virginia resident who's also an oral cancer survivor—and who, coincidentally, had been treated by the same doctor who had treated Kotarides. Ashworth had also found the Oral Cancer Foundation's Web site forum helpful during her treatment and recover–so helpful, in fact, that she later volunteered to serve on the foundation's board.
"It's right after treatment ends that people typically hit a deep depression," Ashworth said. "After I had radiation, which ended in July of 2003, I found the foundation's Web site. Just finding an entire group of people all around the world who were feeling the same way physically and emotionally, it would be tough to express what it did for me, and my husband and children, who were my caregivers."
Ashworth was more than happy to help Barker give back to the foundation. Ashworth, who teaches a cheer organization in Chesapeake, VA, called American Cheer Elite, volunteered her students to help sell tickets and put up posters for the event, distribute donation envelopes to those who wanted to give but who could not attend the performance, and staff the front desk at the performance.
"They tell us that one in three people will have cancer at some point in their lives," Ashworth said. "So I look at these kids that I work with and I think 'You know, chances are some of these kids are going to deal with a parent having cancer in the future.' The more they see what I went through, and help with things like the benefit, the more it takes the scare out of it. Any experience kids have, they learn from. And from helping with this benefit, they get the experience of raising awareness, of giving something to other people—the whole ballgame."
Ashworth not only began helping Barker promote her benefit performance—she conceived of her own Oral Cancer Foundation benefit event: a walk-a-thon to be held this coming spring in Chesapeake. Barker pledged her own students' support. Meanwhile, she booked the Roper Performing Arts Center, a 1,000-seat venue on the Tidewater Community College campus. And she began rehearsing her students—and some former students and other dancers—several nights a week for the performance that was just over a month away.
They fought an uphill battle for audience members, Barker said.
"Our area is not the easiest to get much publicity in," she said, "because we're surrounded by military bases, so it's a very transitory area."
Still, on the morning of the performance, Barker's teaching assistant could barely lead her class because dentists and their office staff kept calling to find out about the benefit and whether the $10 tickets were still available. Word had gotten out.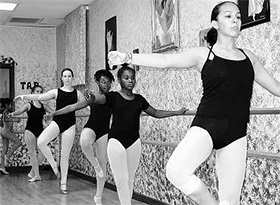 From left: Alexis Leonard, 10; Samanatha Glaros, 13; Michelle Confer, 13; Kabria Rice, 9; Ashlee Jordan, 11 and Kayleigh Garcia, 13, rehearse for the fund-raising performance at the Jeanne & George Roper Performing Arts Center
And so on the evening of Nov. 20, Pappou's Kids took to a lighted stage in a darkened auditorium and gave to their audience every memory they had of the man they had loved and who had affected their lives so deeply. Several days later, they gave The Oral Cancer Foundation a check for the proceeds from the benefit. But Hill doesn't count this triumph in dollars. He counts it in things priceless—lives potentially saved through greater awareness, lives changed through action and giving.
"The real story here is secondarily about oral cancer." he said. "The real story is about people coming together to help others, and how kids learn at an early age that a life of value contains a portion of that time in service to others."