Sean Marsee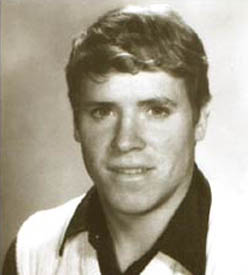 Although oral cancer has taken away the lives of those who have accomplished great things, attention must be paid to those who were taken away before they ever got the chance to reach their goals. High school track star Sean Marsee was one of these.
Sean Marsee was a very popular and respected athlete at his high school in Ada, Oklahoma. A fierce competitor, Sean had won 28 medals at high school track meets in his career. Needless to say, he was in near-perfect physical shape.
He had always taken excellent care of his body, watching his diet, lifting weights, even running five miles a day six months of the year. He didn't smoke or drink, but Sean was a frequent user of so-called "safe" forms of tobacco, such as chewing tobacco and snuff. Starting at age 12, Sean began to "dip" habitually.
In truth, of course, it wasn't a habit – it was an addiction. At one point he was going through a can of snuff every day and a half. Sean's mother, a registered nurse, quickly became aware of the problem. Her lectures on the dangers of tobacco fell on deaf ears, however, as her son simply didn't believe her warnings of cancer and disease. In his world of track meets and high school, many of his teammates dipped, and even the coach was aware of the habit and didn't seem to take it seriously. He pointed out to his mother how high profile athletes both used and marketed smokeless tobacco. They were professionals, something Sean himself aspired to be – if they dipped, how could dipping be dangerous?
One day, however, everything changed. Sean came home and told his mother, "Mom, my tongue hurts." He then showed her a red sore the size of a half-dollar on his tongue, with a hard white core. His mother took him to Dr. Carl Hook, a throat specialist, who recommended a biopsy. Sean was stunned. " I didn't know snuff could be that bad for you," Sean said. Dr. Hook recommended removing that part of Sean's tongue. Sean was silent for a moment, and then asked, "Can I still run in the state track meet this weekend? And graduate next month?" Dr. Hook agreed, and scheduled the surgery for after Sean's graduation.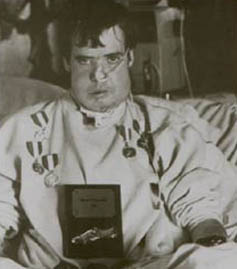 On May 16th, Dr. Hook performed the operation. More of Sean's tongue had to be removed than was originally planned, and the biopsy results tested positive for cancer. Sean was scheduled to meet with a radiation therapist, but before therapy began, a newly swollen lymph node was found in Sean's neck. A discouraging sign that the cancer had spread. Sean's mouth sore had now led to neck surgery.
When it was recommended to the 18-year old that he undergo surgery to remove the lower jaw on the right side along with all lymph nodes, muscles, and blood vessels except his artery, Sean's mother began to cry. She knew him to be quite careful and concerned with his appearance. "There might be some sinking," explained the doctor, "but the chin should support the general planes of the face." After an agonizing ten minutes, Sean finally spoke up. "Not the jawbone. Don't take the jawbone." Plans were made to carry out the other parts of the procedure.
On June 20th, Sean underwent his second surgery, lasting eight hours. At his school, teachers and students assembled during their summer vacation to honor their school's most outstanding athlete. His track coach and his assistant late came to visit Sean and present their gift, a walnut plaque.
After five weeks of healing and radiation therapy, Sean responded well. His mood and body were recovering at a record pace. In October, however, Sean started having severe headaches, and a CAT scan revealed that the cancer had spread anew, around the bottom of his brain and down his back. In November, Sean began his third surgery — the jawbone operation he had not wanted to have and much, much more.
Sean was home that Christmas, maintaining his optimism in the face of such horrible cancer, until January when he found new lumps in the left side of his cheek. The biopsy showed that they too were cancerous.
Even in the midst of this, one day Sean admitted to his mother that he still craved snuff. "I catch myself thinking," he said, "I'll just reach over and have a dip." He also believed that there was a reason for his illness, perhaps in having his story told to others, hopefully "keeping other kids from dying." Even near the end, when Sean became unable to speak, a friend asked him if there was anything he wanted to tell other young athletes. Sean took a pencil and wrote, "Don't dip snuff."
On February 25th, Sean passed away. His track star prowess did not find its zenith, but his bravery and sense of duty to others did.
---
John Joseph Gotti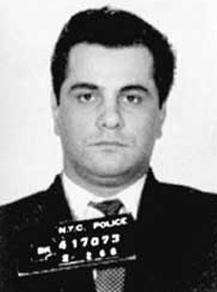 John Joseph Gotti, one of the most celebrated and feared mobsters in Mafia history, came into the world Oct. 27, 1940, in the Bronx to John and Fannie Gotti. As a youngster, John, fifth of 13 children, moved with his family to Sheepshead Bay, Brooklyn, then to Brownsville-East, New York.
Gotti seemed to have been born with his fists up. From the fourth grade on, he ran with kid gangs and fought other young toughs, and though he was reportedly a bright student, street lessons occupied more of his attention than those of the classrooms at P.S. 178.
As a young teen, Gotti joined a gang called the Fulton-Rockaway Boys and regularly took on gangs with similar pulp-fictionesque names. Gotti was suspended at 16 and never went back to school.
Gotti tried a brief stint in a garment factory, but soon turned to what for him was an easier and more lucrative living: petty crime. He also began making an impression on influential members of the Mafia's Gambino family, the largest of the five Mafia groups active then in New York. The Gambino family had its hands in the crime gamut, from theft to gambling to bookmaking, prostitution, and weapons trafficking; Gotti later brought drug trafficking into the mix.
In 1970, the 20-year-old Gotti married Victoria DiGiorgio. The couple moved around for a while, then settled in the Howard Beach-Ozone Park area of Queens. Three years later, the first mob murder tied at least in part to Gotti happened when the mob decided to punish a man named James McBratney, whom it held responsible for the death of Mafia boss Carlo Gambino's nephew. In May of that year, Gotti and two other men shot and killed McBratney in a Staten Island bar. Gotti plea-bargained and was sentenced to four years, serving only two before being released on parole. He promptly landed back in jail for bookmaking, did a year's time, then was arrested twice for stealing truckloads of goods and served another three years.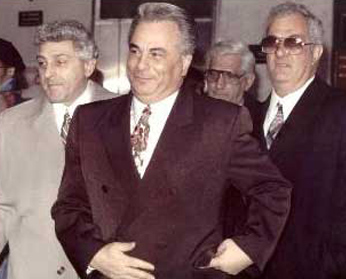 When he got out of prison, Gotti was formally initiated into the Mafia, began running his neighborhood and was soon tucked under the wing of Aniello Dellacroce, a Gambino family underboss. The year was 1980, and Gotti's family was growing. But one day, Gotti's favorite son, 12-year-old Frankie, was killed when a middle-aged neighbor, driving home from work and blinded by the afternoon sun, struck the child when he darted into the street on a minibike. The neighbor, Frank Favara, soon began receiving death threats. He ignored them and kept to his usual schedule. Four months later he was kidnapped on his way home from work. His body was never found. The murder was assumed to have been ordered by Gotti, though some thought others had done it in an attempt to impress the increasingly powerful mobster.
Five years later, it was clear that Gotti was poised for a major move within the mob. Other Mafia members were seen showing Gotti extraordinary deference. Early in 1985, Gotti's original mob mentor had died. Gotti had previously sought to maneuver Dellacroce to the head of the Gambino crime family; Paul Castellano had long since replaced Carlo Gambino as the family's leader and the move never sat well with Gotti. With Dellacroce dead, it was only natural that Gotti should step forward. On Dec. 16, 1985, Castellano was killed, along with one of his lieutenants, when three gunmen opened fire on them in front of a Manhattan steak house. There was no question about who had ordered the hit. Within days, Gotti (who was never arrested in the Castellano killing) had assumed the Gambino family throne.
Gotti set up his headquarters at the Ravenite Social Club and began holding court. He quickly gained a reputation for ruthless reprisal to real and rumored offenses. He was unusually flashy for a mobster, wearing expensive and impeccably tailored clothing, eating at the best New York restaurants, and acquiring a celebrity not known in the Mafia world since the days of Al Capone. The press started calling Gotti the Dapper Don. Soon another name, Teflon Don, was added to the list, as the mob bribed and pressured jurors to acquit Gotti in a series of cases against him.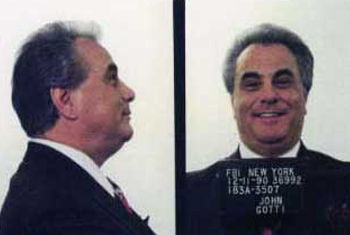 In one, a 1987 racketeering trial, federal agents had what appeared to be a solid case against Gotti. Agents had recorded hours of conversations between the Gambino boss and his cohorts. But mob tactics from Gotti's thugs and legal strategy from Gotti lawyer Bruce Cutler ensured Gotti's acquittal. In 1990, a solicitation of murder trial ended the same way, with Gotti even predicting his release before reporters on his way to the courthouse.
But a year later, Gotti was snared in a trap he never saw being set. Gotti's good friend and close mob associate, Salvatore (Sammy the Bull) Gravano, facing life in prison for murder and racketeering charges, agreed to testify against Gotti in return for a lighter sentence. In 1992, Gravano gave nine days of testimony that fascinated the country, exposing mob tactics to sunlight and spelling the downfall of John Gotti. The jury in this trial was sequestered, and Gotti's lawyer, Cutler, was prevented from defending him because of conflict of interest. Gotti was found guilty and got life without parole.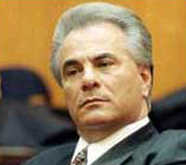 Gotti was sent to maximum-security federal penitentiary in Marion, Ill., where he served the next 10 years relatively quietly, resorting to his customary flamboyance whenever interviewers and other visitors came around. Gotti's son, John Jr., stepped in to assume some of his father's responsibilities, but was nabbed on racketeering, extortion, and tax evasion charges and was sent to prison (Gotti's four other offspring chose a life outside the mob).
In 1998, the 57-year-old Gotti was diagnosed with oral cancer and was transferred to a federal prison hospital for treatment. But the cancer spread, and on June 10, 2002, Gotti died of head and neck cancer. The Diocese of Brooklyn would not allow the mobster a Mass of Christian Burial. Gotti was interred in the Gotti family mausoleum at St. John's Cemetery in New York.
---
Bob Guccione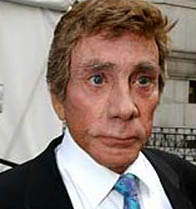 Bob Guccione, the man known for taking skin magazines to a new frontier and freeing uptight Americans to a more authentic vision of their own carnal imaginations, began his venture as a way to fund a more genteel pursuit: he wanted to buy time and supplies for painting.
Guccione, born Robert Charles Joseph Edward Sabatini Guccione in 1930 to devoted parents and a close family, had come a long way from his native Brooklyn and a briefly pursued course of study for the priesthood. It was the early 1960s. Guccione was in his early 30s, well into establishing his second family, living in England and having failed at managing a dry cleaning business was working as managing editor of the weekly newspaper London American. The paper was sinking fast and Guccione had to pull a dove out of his sleeve. Again.
Guccione had married Lilyan Becker at 18, abandoning his religious studies and following instead his other dream of becoming an artist, a pursuit that led him and his wife to Europe. There he and Lilyan had a child but shortly afterward she returned with the boy to California. Guccione painted around Europe, subsisting on money sent from his parents and on income from an employment pastiche ranging from cook to columnist, actor to cartoonist to private eye. He went to North Africa, where he fell in with a group of expatriates that included British singer Muriel Hudson, who in 1956 became Guccione's second wife.
Guccione and Hudson moved to London. There Guccione managed a dry-cleaning chain to support his wife and the three children they'd had. Never the social lion, Guccione soon found himself at odds with his employers and looking for work. He joined the London American's staff, but didn't set about making friends—in fact it's been reported that upon Guccione's promotion to managing editor the staff decided as one to work elsewhere. New staff were brought on board, but the ailing weekly soon shut down.
Guccione, with an infusion of cash from his father, began selling pinups and magazines. He kept an eye on the newsstands, and soon noticed that men's magazines sold the fastest—in particular, a racy yet coy American publication called Playboy. Guccione determined to best the softcore giant, and he began looking for backers. None stepped forward. Three years later the already deeply indebted Guccione decided to scare up the money himself. He produced a brochure to promote subscriptions, designing it himself, shooting the photos, and obtaining credit to print the mailer, which he posted to addresses from an outdated mailing list.
Britain did not look kindly on Guccione for sending indecent material to its pensioners, children and members of Parliament. He was briefly barricaded inside his home by police, was eventually fined 110 pounds, and was raked bloody by the tabloids–but the invaluable publicity prompted a tide of subscriptions. Guccione published his first Penthouse in March of 1965, with a cover photo he shot himself of a girl wearing only a sweater. The 120,000 issues of the inaugural edition sold out before the week was up.
The frustrated painter had launched his dream vehicle—but the responsibilities of running the magazine left him no time for his art. Guccione was publisher, editor, writer, cartoonist and ad salesman. He was also the magazine's photographer. He styled his models' hair and makeup, then posed them looking away from the camera as if it didn't exist.
"We followed the philosophy of voyeurism," Guccione told John Colapinto of Independent UK in July of 2004. "To see her as if she doesn't know she's being seen. That was the sexy part. That was the part that none of our competition understood."
Guccione's second wife had trouble understanding his reportedly intense association with the Penthouse "Pets," and eventually that tension was more than the marriage could bear. Muriel left him and took their children with her. Guccione kept working 20-hour days, pouring his energy into the pages.
But Guccione couldn't keep up that breakneck pace forever. He started looking for someone to take over ad sales. One of Penthouse's first issues had featured a scathing review of a London nightclub dancer named Kathy Keeton, whose agent called and lambasted the publisher. Guccione decided to see Keeton's performance himself and went to meet her. Impressed with her intellect, financial knowledge and drive, Guccione offered Keeton the ad sales job. The post paid nearly 100 percent less than what Keeton was making on stage. But the business-savvy South African jumped at what she saw as an opportunity. Within a few short years Keeton had built a sturdy financial foundation for the magazine. And she and Guccione had become inseparable.
When Penthouse was three years old, Guccione decided it was time to challenge Playboy on its own soil. Guccione and Keeton moved to New York, set up shop, and sent the first formal shot over Playboy's bow with an ad in the New York Times that featured the bunny logo centered in a rifle sight, accompanied by the caption "We're going rabbit hunting." An epic softcore circulation war followed.
Guccione's war strategy was to publish increasingly revealing photos and then wait to see if he got his wrist slapped. When he didn't, he'd step over the line again. Finally, in April 1970, Guccione published a photo of a nude woman walking a shoreline—a photo that featured the merest glimpse of pubic hair, a definitive step into that era's definition of obscenity. There was still no legal backlash, and by 1971 Penthouse's circulation passed the 1 million mark. Six years later it pulled even with Playboy at 4.5 million—and Guccione's fortune had grown to $5 million and was being borne ever upward by his magazine's pioneering explicitness. Eventually Guccione would be worth hundreds of millions of dollars.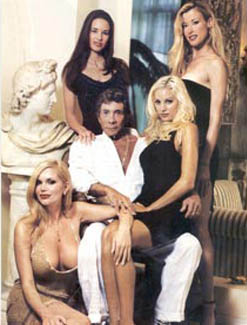 For all his financial competitiveness with Playboy, Guccione refused to ape publisher Hugh Hefner in the social arena. Where Hefner surrounded himself with flash and glitter and satin-covered excess, Guccione invested in art for his 30-room mansion, in which he held low profile parties for business associates, favored Pets and close friends.
The 1970s saw Guccione and Keeton branching into other magazine titles—Viva (the women's equivalent of Penthouse), the award-winning Omni, Longevity, and digests of Penthouse including Forum and Variations. Guccione watched as Hefner began making movies, and soon followed suit, investing in The Day of the Locust, The Longest Yard and Chinatown before sinking $17.5 million into his own effort, the X-rated Caligula, which flopped.
Guccione hired his family to help run his publishing empire, General Media—but over the years he ostracized nearly all of his children, in some cases in disputes over financial decisions. Guccione and Keeton pumped Penthouse profits into new and ultimately money-losing magazine and film ventures, funding for crackpot medical and health schemes, a small-scale nuclear fusion reactor endeavor that failed, and another infamous failure, his attempt to build an Atlantic City casino. Guccione was squandering his wealth. And meanwhile, Penthouse's circulation was falling.
A number of factors influenced the magazine's flagging popularity: increasingly anti-pornography feminism in the 1980s, the advent of porn on video, the Internet, cable and pay-per-view, and the entry into the magazine market of lighter-weight "lads" magazines, which teased its readers rather than giving them what they could increasingly find on screen or online. Guccione responded according to what had worked before, taking Penthouse ever deeper into hardcore themes. The strategy failed. Adding to Guccione's worries was a growing mountain of tax debt. Then in 1995, his wife was diagnosed with breast cancer, which quickly spread to her stomach and liver. Keeton survived until September of 1997. She and Guccione had been together more than 30 years. The grief-stricken publisher obtained permission to inter his wife on the grounds of his estate, and he left her name on Penthouse's masthead.
A year after Keeton's death, Guccione began experiencing head and neck pain. Rounds of scans and MRIs turned up nothing—but a dental exam revealed cancer on his tongue. Guccione underwent laser surgery and six weeks' radiation treatment, which left him with slightly slurred speech and unable to eat conventionally; he must take nutrition through a tube.
Fighting the cancer, fighting his creditors and fighting the failing circulation war finally took its toll on Guccione. In August of 2003, General Media declared bankruptcy, and in December of that year Guccione relinquished the helm of Penthouse.