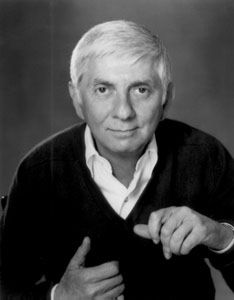 Having brought to the screen such memorable television programs as Charlie's Angels and Dynasty, Aaron Spelling's name has become synonymous with Hollywood success. His career spans more than four decades and has produced millions of hours of televised entertainment. He has also developed many feature films, and cemented his status as one of the most successful producers in Hollywood history.
One of five children, Aaron Spelling was born April 22, 1925, in Dallas, Texas, to poor Jewish immigrants. His father was a skilled tailor working for Sears. As a boy, Spelling was the only Jewish student at his school, a fact that led to constant harassment at the hands of his classmates.
Things changed when Spelling began attending Southern Methodist University. A journalism student, he won the prestigious Harvard award for the best original one-act play, and he was the only person in the university's history to direct a major play, an achievement that caused some tension and also pointed Spelling in the direction his life would take. The play prompted a controversy that got his father fired from Sears. Spelling's sister convinced his employers to hire him back, which they did, under one condition: Spelling would have to leave town and never come back. As drastic as it sounds, Spelling says, "I was anxious to leave anyway."
Spelling traded Dallas for Hollywood in 1953. He became a bit actor in more than fifty television shows and more than a dozen films, appearing in such classics as Dragnet, Gunsmoke, and I Love Lucy. He also found work as a writer on such shows as Dick Powell's Zane Grey Theatre, Playhouse 90, Wagon Train, and The Jane Wyman Theater. During this period, the fledgling mover and shaker met and married actress Carolyn Jones, who starred as Morticia on The Addams Family. Married in 1953, the couple stayed together until 1965. (Jones passed away from Cancer in 1983)
Spelling's first production partnership was with another Hollywood notable, Danny Thomas. Together the two gave us The Danny Thomas Show, The Guns of Will Sonnet, and The Mod Squad, among others. During its five year run, Mod Squad earned six Emmy Award nominations, including one for outstanding dramatic series of the 1969-70 season. But it was partnering with Leonard Goldberg in 1971 that began the most famous and prolific period of Spelling's career. Together the two produced shows such as Charlie's Angels, Starsky and Hutch, Fantasy Island, Hart to Hart, and Family. They also masterminded 38 television features, among them The Boy In The Plastic Bubble, an early starring vehicle for John Travolta. During this period, he married his second wife, Candy, and had two children, Tori and Randy.
As the 70's faded into the 80's, Spelling kept going strong; the mood of his programming changing to reflect the mood of the times, he produced Dynasty, T.J. Hooker, and others. In 1980's television, Spelling was king. In 1984 his seven series on ABC accounted for one-third of the network's prime time schedule and led some critics to rename ABC "Aaron's Broadcasting Company." One Spelling series which stands out as truly anomalous among his prime time and movie ventures is Family (ABC, 1976-80). Spelling and Mike Nichols co-produced this weekly hour-long drama which many consider to be his best work. During the four years that this serious portrayal of an upper middle-class suburban family was in first run, it won four Emmy Awards for the lead performers and was twice nominated for outstanding drama series. He also moved into feature films, making 'night Mother, Mr. Mom, with Michael Keaton, and Soapdish, which featured an all-star cast.
That film concerned a subject Spelling knew all to well; the backstage drama going on around a television soap opera. Spelling also made more movies for television, among them Day One and And The Band Played On, one of the first movies to deal with the AIDS crisis; both features won Emmys. In 1983, Spelling embarked on another large production, his home. He bought six acres of property that had once belonged to Bing Crosby. Spelling demolished the Crosby house and built his own. Dubbed "The Manor," the house has 123 rooms and four two-car garages, among other amenities; it is the largest single family home in California.
Still hard at work throughout the 1990's, Spelling's much imitated brand of television can still be found in prime time with shows such as Beverly Hills 90210, Melrose Place, 7th Heaven, Pacific Palisades, and Sunset Beach. Aaron Spelling has given us enough entertainment to last a lifetime. He has received almost every industry award there is, and he has been given the NAACP's Image Award no less that six times, more than any other television producer.
Spelling was frequently photographed with his trademark pipe. Those years of tobacco use finally caught up with him in 2001. Spelling underwent surgery for oral cancer. In June of 2006, after several years of survival, Mr. Spelling passed away from a stroke.
---