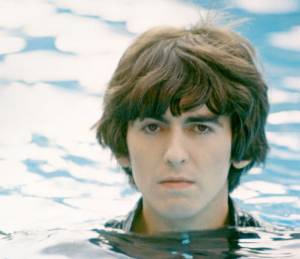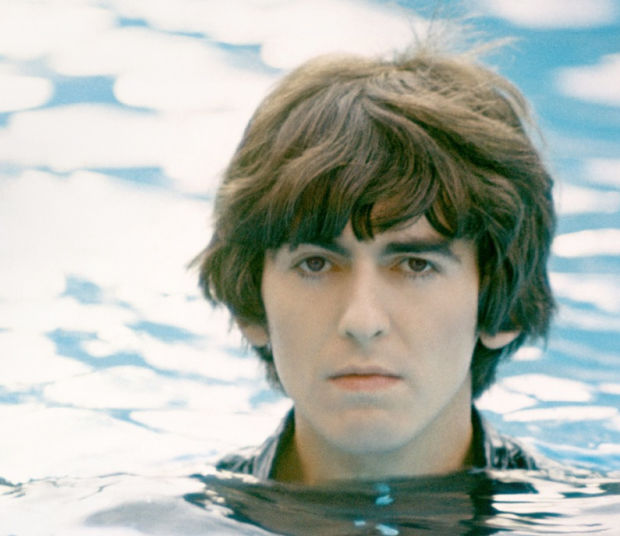 George Harrison, the Beatles' quiet lead guitarist and spiritual explorer who added both rock 'n' roll flash and a touch of the mystic to the band's timeless magic, died on November 29, 2001. He was 58. Harrison died at a friend's Los Angeles home following a battle with cancer, longtime friend Gavin De Becker told The Associated Press. Harrison's wife, Olivia Harrison, and son Dhani, 24, were with him. "He left this world as he lived in it, conscious of God, fearless of death, and at peace, surrounded by family and friends," the Harrison family said in a statement. "He often said, Everything else can wait, but the search for God cannot wait, and love one another."
With Harrison's death, there remain two surviving Beatles: Paul McCartney and Ringo Starr. John Lennon was shot to death by a deranged fan in 1980. "I am devastated and very, very sad," McCartney told The Press Association, a British news agency, early Friday. "He was a lovely guy and a very brave man and had a wonderful sense of humor. He is really just my baby brother."
The 58-year-old Harrison was no stranger to cancer treatment. In 1997, he discovered a lump on his neck that turned out to be cancerous. A malignant node from an oral cancer was treated with surgery and radiation. Of that incident, he said, "I got it purely from smoking. I gave up cigarettes many years ago, but had started again for a while and then stopped in 1997. Luckily for me they found that this nodule was more of a warning than anything else". "It reminds you that anything can happen," he said at the time. He was correct when he said that years of heavy smoking likely precipitated his cancer. The links to this type of oropharyngeal cancer and heavy tobacco use have been well documented. The following year, Harrison survived an attack by an intruder who stabbed him several times. A man who sought privacy in his life, Harrison attempted to keep some of it, when a world of fans grew concerned about his ongoing encounters with cancer. In July 2001, he released a statement asking fans not to worry about reports that he was still battling cancer.
The Beatles were four distinct personalities joined as a singular force in the rebellious 1960's, influencing everything from hairstyles to music. Whether dropping acid, proclaiming "All You Need is Love" or poking fun at the squares in the film "A Hard Day's Night," the Beatles inspired millions. Harrison's guitar work, modeled on Chuck Berry and Carl Perkins among others, was an essential element in the Beatles mix. He could blend with the band's joyous sound, or rock out wildly as on "Long Tall Sally", or turn slow and dreamy on "Something." His 12-string Rickenbacker, featured in "A Hard Day's Night," was a major influence on the American band the Byrds. Although his songwriting was overshadowed by the great Lennon-McCartney team, Harrison did contribute such classics as "Here Comes the Sun" and "Something," which Frank Sinatra covered. Harrison also taught the young Lennon how to play the guitar. "As he said himself, how do you compare with the genius of John and Paul? But he did, very well," rock star and activist Bob Geldof told BBC radio.
Harrison made his songwriting debut in 1963 with "Don't Bother Me," first available in the U.S. on 1964's Meet The Beatles.
"It took me a while to pluck up the courage,"

-Harrison told Billboard's Timothy White in 1992,

"Because we'd already had a bunch of hits–'Love Me Do,' 'Please Please Me,' 'From Me to You' with Lennon & McCartney songs.
They were getting what seemed like quite expert at it. I just had to try and write something that was acceptable that I wouldn't get laughed out of the room with." In fact, most of Harrison's songs were anything but laughable; solidly constructed, often in minor keys not favored by Lennon & McCartney, they provided a valuable musical contrast that served to round out albums already brimming with brilliance. All told, the Beatles recorded 21 Harrison songs between 1963-70. Many are among the band's best known, including "If I Needed Someone," "Taxman," "While My Guitar Gently Weeps," "Here Comes the Sun," and, of course, "Something."
He was known as the "quiet" Beatle and his public image was summed up in the first song he wrote for them, "Don't Bother Me," which appeared on the group's second album. But Harrison also had a wry sense of humor that helped shape the Beatles' irreverent charm, memorably fitting in alongside Lennon's cutting wit and Starr's cartoonish appeal.
At their first recording session under George Martin, the producer reportedly asked the young musicians to tell him if they didn't like anything. Harrison's response: "Well, first of all, I don't like your tie." Asked by a reporter what he called the Beatles' famous moptop hairstyle, he quipped, "Arthur." He was even funny about his own mortality. As reports of his failing health proliferated, Harrison recorded a new song – "Horse to the Water" – and credited it to "RIP Ltd. 2001."
He always preferred being a musician to being a star, and he soon soured on Beatlemania – the screaming girls, the hair-tearing mobs, the wild chases from limos to gigs and back to limos. Like Lennon, his memories of the Beatles were often tempered by what he felt was lost in all the madness. "There was never anything, in any of the Beatle experiences really, that good: even the best thrill soon got tiring," Harrison wrote in his 1979 book, "I, Me, Mine." "There was never any doubt.
The Beatles were doomed. Your own space, man, it's so important. That's why we were doomed, because we didn't have any. We were like monkeys in a zoo." Still, in a 1992 interview with The Daily Telegraph, Harrison confided: "We had the time of our lives: We laughed for years."
"George has given so much to us in his lifetime and continues to do so even after his passing, with his music, his wit and his wisdom," Lennon's widow, Yoko Ono said Friday. Alan Williams, The Beatles' first manager, described Harrison as the major cog in The Beatles. "He kept them together probably because of the calming effect he had," Williams said.
After the Beatles broke up in 1970, Harrison had sporadic success. He organized the concert for Bangladesh in New York City, produced films which included Monty Python's "Life of Brian," and teamed with old friends, including Bob Dylan and Roy Orbison, as "The Traveling Wilburys." His benefit concert was the first of it's kind. He set the groundwork for efforts which others engaged in later, like "Band Aid" to raise money for worthy causes.
George Harrison was born Feb. 25, 1943, in Liverpool, one of four children of Harold and Louise Harrison. His father, a former ship's steward, became a bus conductor soon after his marriage. Harrison was 13 when he bought his first guitar and befriended Paul McCartney at their school. McCartney introduced him to Lennon, who had founded a band called the Quarry Men – Harrison was allowed to play if one of the regulars didn't show up. "When I joined, he didn't really know how to play the guitar; he had a little guitar with three strings on it that looked like a banjo," Harrison recalled of Lennon during testimony in a 1998 court case against the owner of a bootleg Beatles' recording. "I put the six strings on and showed him all the chords – it was actually me who got him playing the guitar. He didn't object to that, being taught by someone who was the baby of the group. John and I had a very good relationship from very early on."
Harrison evolved as both musician and songwriter. He became interested in the sitar while making the 1965 film "Help!" and introduced it to a generation of Western listeners on "Norwegian Wood," a song by Lennon from the "Rubber Soul" album. He also began contributing more of his own material. Among his compositions were "I Need You" for the soundtrack of "Help"; "If I Needed Someone" on "Rubber Soul"; "Taxman" and "Love You To" on "Revolver"; "Within You, Without You" on "Sgt. Pepper"; and "While My Guitar Gently Weeps" on the White Album. In 1966, he married model Patti Boyd, who had a bit part in "A Hard Day's Night." (They divorced in 1977, and she married Harrison's friend, guitarist Eric Clapton, who wrote the anguished song "Layla" about her. Harrison attended the wedding.)
More than any of the Beatles, Harrison craved a little quiet. He found it in India. Late in 1966, after the Beatles had ceased touring, George and Patti went to India, where Harrison studied the sitar with Ravi Shankar. He maintained a lifelong affiliation with that part of the world. In 1967, Harrison introduced the other Beatles to the teaching of the Maharishi Mahesh Yogi, and all four took up transcendental meditation. Harrison was the only one who remained a follower – the others dropped out, with Lennon mocking the Maharishi in the song "Sexy Sadie." By the late '60s, Harrison was clearly worn out from being a Beatle and openly bickered with McCartney, arguing with him on camera during the filming of "Let It Be." As the Beatles grew apart, Harrison collaborated with Clapton on the song "Badge," performed with Lennon's Plastic Ono Band and produced his most acclaimed solo work, the triple album "All Things Must Pass." The sheer volume of material on that 1970 release confirmed the feelings of Harrison fans that he was being stifled in the Beatles. But one of those songs, the hit "My Sweet Lord," later drew Harrison into a lawsuit: The copyright owner of "He's So Fine," written by Lonnie Mack and recorded by The Chiffons, won a claim that Harrison had stolen the music.
Another Harrison project also led to legal problems. Moved by the starvation caused by the war between Bangladesh and Pakistan, Harrison in 1971 staged two benefit concerts at Madison Square Garden and recruited such performers as Starr, Shankar, Clapton and Dylan. Anticipating such later superstar benefits as Live Aid and Farm Aid, the Bangladesh concerts were also a cautionary tale about counterculture bookkeeping. Although millions were raised and the three-record concert release won a Grammy for album of the year, allegations emerged over mishandling of funds and the money long stayed in escrow.
Harrison's family life was steadier. He married Olivia Arias in 1978, a month after Dhani was born. The next year, Harrison founded Handmade Films to produce Monty Python's "Life of Brian." He sold the company for 8.5 million dollars in 1994. Fame continued to haunt him. In 1999, he was stabbed several times by a man who broke into his home west of London. The man, who ranted that the Beatles were witches and believed himself on a divine mission to kill Harrison, was acquitted on grounds of insanity. But fame also continued to enrich Harrison. The following year, he saw a compilation of Beatles No. 1 singles, "1," sell millions of copies and re-establish the band's status around the world. "The thing that pleases me the most about it is that young people like it," he said in an interview with The Associated Press. "It's given kids from 6 to 16 an alternate view of music to what's been available for the past 20 years. "I think the popular music has gone truly weird," he said. "It's either cutesy-wutesy or it's hard, nasty stuff. It's good that this has life again with the youth."
John Chambers, of the Liverpool Beatles Appreciation Society, said Harrison's death was the end of an era for Beatles fans. "Until now there has always been the hope of a reunion, perhaps with Julian Lennon standing in for his dad," Chambers said. "It really is the end of a dream."
While Harrison finally succumbed to a brain cancer, it is likely that years of heavy smoking were a significant factor in his death. The original oral/throat cancer is a type which is capable of, and likely to, metastasize to other locations. It is not uncommon for this variety of cancer to reappear particularly in the lungs, as in Harrison's case. Once there, cancer cells have access to avenues of travel, the dense blood supply, which allows the cancer to then create metastasis to other locations, in this case the brain. George Harrison's passing is the loss of an extraordinary human to this process. He will be missed by an entire generation.