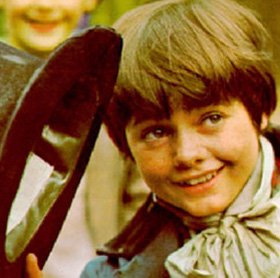 Jack Wild, the English actor whose portrayal of a cheeky pickpocket named the Artful Dodger in the 1968 movie musical "Oliver!" gained him international notice and an Oscar nomination at 16, died of mouth cancer, his agent, Alex Jay, told the Associated Press. He was 53.
Wild lived in Bedfordshire, England.
The son of mill workers in Manchester, England, Wild was spotted by talent agent June Collins as he played soccer with her son, future rock star Phil Collins. Wild was soon cast in a London stage production of "Oliver!" — the musical adaptation of Charles Dickens' novel "Oliver Twist," about a boy who runs away from an orphanage and falls in with a gang of young hooligans.
As the pint-sized sidekick of the villainous Fagin in the stage and screen versions of the musical, Wild won raves, particularly for his rendition of the show-stopping song "Consider Yourself." He received an Oscar nomination for best supporting actor.
"Jack Wild is a beguiling lad in the best tradition of Peck's Bad Boy or maybe an urban Huck Finn," former Times movie critic Charles Champlin wrote in a 1968 review of "Oliver!"
Wild's success as the Artful Dodger led to the lead role in the children's fantasy television series "H.R. Pufnstuf," in which he appeared opposite the Sid and Marty Krofft Puppets. The series ran from 1969 to 1971 and made Wild a teenage idol. He reprised his role in the 1970 movie "Pufnstuf."
His career was derailed in the late 1970s by severe alcoholism. After struggling to sober up through most of the 1980s, he returned to the screen in 1991 in Kevin Costner's "Robin Hood: Prince of Thieves." More recently, he had worked steadily in regional theater in England.
The actor blamed his cancer on years of heavy drinking and smoking. "My lifestyle had made me a walking time bomb," he said last year.
Wild is survived by his wife, Claire Harding.