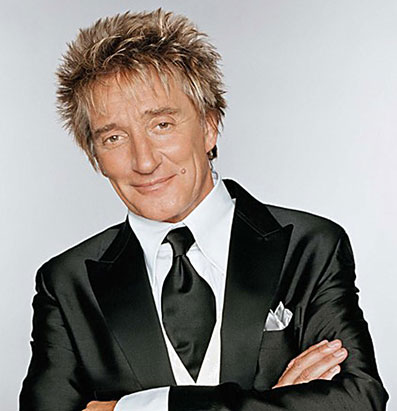 Few rock stars have managed to reach the level of fame Rod Stewart has achieved. His career spans nearly four decades, and his hit list is long and impressive. Not only is Stewart a pop icon, he is also a respected singer and songwriter who has been able to adapt his style to the changing times, continuing to produce hits and attract new fans. Not only has he created great music; his lifestyle has been the envy of young men worldwide. Lately, Stewart's focus has changed due to a recent scare when he was diagnosed with thyroid cancer. His bout with cancer has opened his eyes to the preciousness of life, and Stewart has now devoted much of his time to helping publicize the fight against cancer, and help those who are not as fortunate as he was.
Roderick Stewart was born on January 10, 1945 in London, England. Minutes before Stewart was born, a German V2 rocket exploded into the Police Station right down the street, maybe a sign that this baby was going to be a big hit. Stewart was the youngest of five children born to Robert and Elsie Stewart. His parents owned a newsagents shop in North London, and the family resided above the shop. As a youngster, Stewart had a passion for model railroads and soccer, as well as music. Quite often the Stewart family would sing songs around the family piano, especially songs by Al Jolson, a favorite of Rod and the family. Stewart did not like going to school, and his lack of interest made him realize he needed to find a career that had nothing to do with scholastics'. He found soccer.
The Stewart family were all interested in soccer, from his father to his two older brothers to Rod himself. Very early, Stewart realized that soccer was a chance for him to earn a good living. He practiced hard everyday, and in his late teens he signed an apprentice contract to play with the Brenton Football Club. But his soccer career was not what he expected. Too much of the time he was taking care of equipment for players on the first team, and his actual time on the field was short. After only a few short weeks, Stewart hung up his cleats, and decided to pursue another profession. The other major influence in his life, music, soon came calling.
It was the early sixties, and Stewart was consumed with the folk music culture. He not only embraced alternative music, but he also opened himself up to alternative ways of thinking. Rod became interested in left-wing politics and was soon a beatnik and communist. He also grew his hair out long and dressed in folk garb, much to the dismay of his parents. Deciding to tour Europe as a band with some of his folk friends, he played on the streets to tourists for money. One of the friends was named Whizz Jones, a popular folk singer.
Rod, Whizz, and company toured around Europe until Spanish police arrested the band for vagrancy and found that their passports were expired. They were soon expelled form Spain and sent back to England. Stewart's father made Rod clean up and find a job. Rod worked at different menial jobs during this time including a gravedigger, fence erector, and delivery boy. He also stopped dressing like a beatnik and adopted the beginnings of the sexy image he would later portray. Musically, he started to drift away from folk music, towards the rock and roll sounds of upcoming bands like The Rolling Stones and The Yardbirds.
Rod was soon playing in different rock bands, but he didn't get his big break until he joined the Jeff Beck Group in 1966. The combo of Beck and Stewart set the standard for what was to become heavy metal, with the hard guitar licks of Beck and the sexy vocals of Stewart yielding an original sound. The group released two influential albums in "Truth" and "Beck Ola," but within two and a half years the group disbanded. After the break up, Stewart and Jeff Beck Group bassist Ron Wood joined The Faces, and Stewart also began a solo career. It was his solo career that Stewart would soon find huge success.
The Faces were a success both in England and the US, and became known as a great live band, but during this same period Stewart was also laying the foundation for a solo career. His first solo release, "An Old Raincoat Won't Let You Down," only made it to number 139 on the charts, but the critics were impressed with its content and style. His second solo album was also met with mediocre reviews. Finally in his third solo effort, "Every Picture Tells A Story," success arrived, and it produced Stewart's first number one chart hit "Maggie May." Stewart's fourth album, "Never A Dull Moment," was also a huge success, reaching the number two spot on the US charts. The Faces on the other hand, suffered the fate of many groups with strong individual personalities, and soon broke up, leaving Stewart to put full effort into his solo career.
In 1976, Stewart achieved his first platinum album, "A Night On The Town." The album featured the number one single "Tonight's The Night." This album certified Stewart as a rock superstar. He continued to release albums, and produced many smash hits like "Hot Legs," "You're In My Heart," and the classic tribute to being attractive, "Do You Think I'm Sexy?" In his later career he also found success with hits like "Infatuation" and "Forever Young."
Along with his hit music, Rod also enjoyed a glamorous lifestyle. He was seen at all the big parties and galas, and he dated numerous models and celebrities. Even though Stewart works out daily and is in great health, his doctors discovered a lump on his thyroid gland. In an interview with ABC, he told them, "It was a terrible shock. I mean, I just went into total silence for a few days. Early detection made all the difference. "Men have got to get to the doctors and get it detected early." Stewart had gone in for a routine CAT scan when the tumor was found, and he under went surgery the next day to remove it. Stewart has now made a full recovery.
Faced with such a frightening ordeal, Stewart now wants to help others in similar situations. He has realized that cancer can hit anyone at anytime, and he wants to bring awareness to the deadly disease. "I'm one of the lucky ones," he says. "The first thing you think is 'Why?' The next thing you think is 'What can I do to help?'" Stewart has contributed by helping publicize the work of the City of Hope Foundation, an organization working to find a cure for all types of cancer. Recently, he made a visit to the Foundation. "To see small children dying of cancer with absolutely no hope, I think, God, I'm one of the lucky ones," Stewart said. "He must have given me a second chance, and there's something I've got to do with the rest of my life."
To help raise money for the foundation, Stewart has already auctioned personal items and memorabilia. He has also become a spokesman for the foundation. Stewarts' contributions to awareness will make a significant difference. When individuals with his power of world recognition bring their celebrity to bear on an issue, millions of people notice and listen. His attitude and willingness to make a difference in the lives of others in this way, single him out as a truly extraordinary individual