Tony Gwynn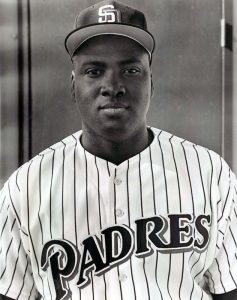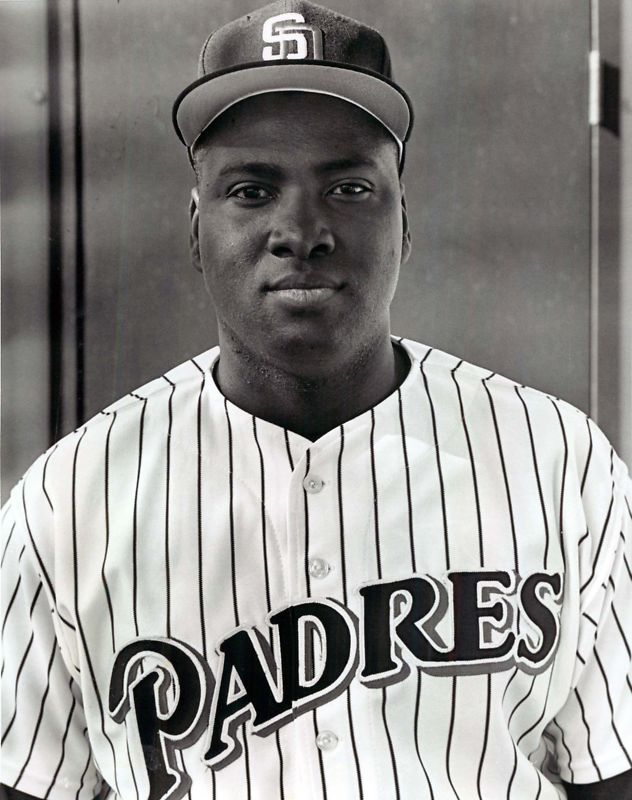 Tony Gwynn, the Hall of Famer with a sweet left-handed swing who spent his entire 20-year career with the Padres and was one of the game's greatest hitters, died of cancer Monday. He was 54.
Gwynn, a craftsman at the plate and winner of eight batting titles, was nicknamed "Mr. Padre" and was one of the most beloved athletes in San Diego.
He attributed his oral cancer to years of chewing tobacco. He had been on a medical leave since late March from his job as baseball coach at San Diego State, his alma mater. He died at a hospital in suburban Poway, agent John Boggs said.
"He was in a tough battle and the thing I can critique is he's definitely in a better place," Boggs told The Associated Press. "He suffered a lot. He battled. That's probably the best way I can describe his fight against this illness he had, and he was courageous until the end."
In a rarity in pro sports, Gwynn played his whole career with the Padres, choosing to stay rather than leaving for bigger paychecks elsewhere. His terrific hand-eye coordination made him one of the game's greatest contact hitters. He had 3,141 hits, a career .338 average and won eight NL batting titles. He excelled at hitting singles the other way, through the "5.5 hole" between third base and shortstop.
Gwynn's wife, Alicia, and other family members were at his side when he died, Boggs said.
Gwynn's son, Tony Jr., was in Philadelphia, where he plays for the Phillies.
"Today I lost my Dad, my best friend and my mentor," Gwynn Jr. tweeted. "I'm gonna miss u so much pops. I'm gonna do everything in my power to continue to … Make u proud!"
Gwynn had two operations for cancer in his right cheek between August 2010 and February 2012. The second surgery was complicated, with surgeons removing a facial nerve because it was intertwined with a tumor inside his right cheek. They grafted a nerve from Gwynn's neck to help him eventually regain facial movement.
Gwynn had said he believed the cancer was from chewing tobacco.
Gwynn had been in and out of the hospital and had spent time in a rehab facility, Boggs said.
"For more than 30 years, Tony Gwynn was a source of universal goodwill in the national pastime, and he will be deeply missed by the many people he touched," Commissioner Bud Selig said.
Gwynn was last with his San Diego State team on March 25 before beginning a leave of absence. His Aztecs rallied around a Gwynn bobblehead doll they would set near the bat rack during games, winning the Mountain West Conference tournament and advancing to the NCAA regionals.
Last week, SDSU announced it was extending Gwynn's contract one season.
San Francisco Giants third base coach Tim Flannery, who played with Gwynn and then coached him with the Padres, said he'll "remember the cackle to his laugh. He was always laughing, always talking, always happy."
"The baseball world is going to miss one of the greats, and the world itself is going to miss one of the great men of mankind," Flannery said. "He cared so much for other people. He had a work ethic unlike anybody else, and had a childlike demeanor of playing the game just because he loved it so much."
Gwynn played in the Padres' only two World Series and was a 15-time All-Star.
He homered off the facade at Yankee Stadium off San Diego native David Wells in Game 1 of the 1998 World Series and scored the winning run in the 1994 All-Star Game. He was hitting .394 when a players' strike ended the 1994 season, denying him a shot at becoming the first player to hit .400 since San Diego native Ted Williams hit .406 in 1941.
Gwynn befriended Williams and the two loved to talk about hitting. Gwynn steadied Williams when he threw out the ceremonial first pitch before the 1999 All-Star Game at Boston's Fenway Park.
Gwynn retired after the 2001 season. He and Cal Ripken Jr. — who spent his entire career with the Baltimore Orioles — were inducted into the Hall of Fame in the class of 2007. A wreath was being placed around his plaque in the Hall of Fame on Monday.
Also in 2007, the Padres unveiled a bronze statue of Gwynn on a grassy hill just beyond the outfield wall at Petco Park. While Gwynn was still with the Padres, then-owner John Moores donated $4 million to San Diego State for a new baseball stadium that bears the Hall of Famer's name.
Gwynn was a two-sport star at San Diego State in the late 1970s and early 1980s, playing point guard for the basketball team — he still holds the game, season and career record for assists — and outfielder for the baseball team.
Gwynn always wanted to play in the NBA, until realizing during his final year at San Diego State that baseball would be the ticket to the pros.
"I had no idea that all the things in my career were going to happen," he said shortly before being inducted into the Hall of Fame. "I sure didn't see it. I just know the good Lord blessed me with ability, blessed me with good eyesight and a good pair of hands, and then I worked at the rest."
He was a third-round draft pick of the Padres in 1981.
After spending parts of just two seasons in the minor leagues, he made his big league debut on July 19, 1982. Gwynn had two hits that night, including a double, against the Philadelphia Phillies. After doubling, Pete Rose, who had been trailing the play, said to Gwynn: "Hey, kid, what are you trying to do, catch me in one night?"
Gwynn also is survived by a daughter, Anisha.
AP
---
Babe Ruth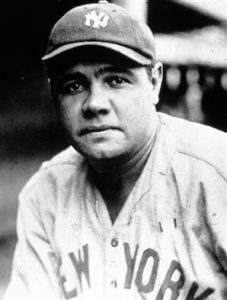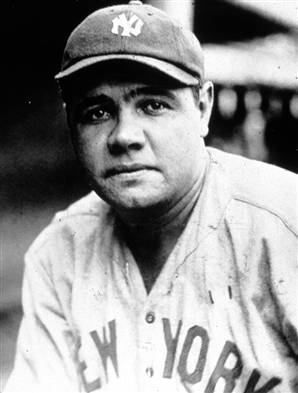 Jordan the "Babe Ruth of basketball," or Wayne Gretzky the "Babe Ruth of hockey." His name did not mean baseball, it meant greatness. He was a great player, and a great man. He had faults, like everyone else, but his faults were accepted because of his great qualities. He drank, womanized, smoked, and indulged in the good life. He also went out of his way to help children and was generous with his money. But his bad habits caught up with him and oral cancer cut his remarkable life short, sending a nation into mourning.
He was the greatest crowd pleaser of them all"

– Waite Hoyt, former teammate
Babe Ruth was born on February 6, 1895, in Baltimore, Maryland. He was the first child of George and Kate Ruth, and one of the eight children in the Ruth family. Tragically, he and his younger sister Marie were the only children to make it out of infancy and live an adult life. This is just one of many hardships Ruth endured through childhood. The Babe's parents worked long hours in a tavern and did not give him much love or attention. With no one to watch him, Ruth was left to wander the dirty, crowded streets of the Baltimore riverfront. During this time Ruth picked up many bad habits that would come back to haunt him later. He was skipping school, stealing, chewing tobacco, and drinking his father's whiskey. He once told a reporter,
I learned early to drink beer, wine, whiskey, and I think I was about five when I first chewed tobacco. There was a lot of cussin' in Pop's saloon, so I learned a lot of swear words, some really bad ones.
Finally his parents sent him to St. Mary's Industrial School for Boys because they no longer had time for him.
St. Mary's was an orphanage and a reformatory that housed 800 boys. There was a huge wall that surrounded St. Mary's and it looked more like a prison than an orphanage. Life got no better for Ruth during his first years at St. Mary's. The other kids constantly teased Ruth and called him vulgar names. Administrators, who were very hard on him, also labeled him "incorrigible." He was returned to his parents a few times to try to live with them but always ended up back at St. Mary's.
One good thing did come out of his time at St. Mary's, and his name was Brother Mathias. Mathias was the head disciplinarian at the school, so in the early days he and Ruth met with each other often. A relationship formed and Brother Mathias became a positive influence for Ruth. Ruth and Brother Mathias became so close that Ruth's parents signed over custody of Babe to Mathias. Mathias assumed a father-figure relationship with Ruth and helped him reform his ways. He also introduced Ruth to a game called baseball.
It was in baseball that Ruth excelled. He was the best player in the school, and he could play all positions in the field. He was also an incredible hitter. He was so good that by the age of ten he was playing on the school's varsity team, which was made up of fifteen and sixteen year-olds. When Ruth was nineteen years old, Jack Dunn, the manager of the minor league Baltimore Orioles, came to scout Ruth. He was so impressed with the young man's skills that he signed him to a major league contract. To get Ruth on the team, Dunn also had to assume legal guardianship of Ruth from Brother Mathias because Ruth could not leave the school before he was twenty-one years old. Dunn was known for bringing in young talent, and upon arrival at training camp with Ruth one of the players joked, "here's Jack's newest babe." The players began calling Ruth "Babe," and the famous nickname stuck. Barely a week after being with the team, Ruth hit his first home run.
After five months with the Orioles, Ruth was sold to the Boston Red Sox in 1914 and became a major-leaguer. He came to the Red Sox as a pitcher, but he quickly showed his prowess as a hitter. Ruth helped the Sox win three world championships in the five years he was with the team. He won numerous games as a pitcher and led the major leagues with a 1.75 era in 1916. In 1919, Manager Ed Barrow put Ruth in the outfield, and he hit .322 with 29 home runs and 114 RBIs. Nobody had ever hits many home runs before. But at the end of the 1919 season, Ruth was traded to the New York Yankees for $125,000.00. The Red Sox have not won a World Series since Babe left.
His first year in New York saw the Babe hit 54 home runs. The next year, 1921, he hit 59 home runs and batted .377. The Yankees won six pennants and three World Series in eight years with Ruth on the team. Illness, suspensions, and bad habits left Ruth with a down year in 1922 and he only hit 35 home runs, but in 1923, Ruth made a tremendous comeback.The Yankees opened a new stadium that year, and Ruth hit a home run on opening day, one of 41 he would hit that year while batting .393. In 1927, Ruth did the impossible and hit 60 home runs, which was one eighth of the home runs in the league that year. But his off-field habits would come back and strangle his career.
On the field, Ruth was a god. At his time baseball had suffered the infamous Black Sox scandal, in which the White Sox had fixed the World Series. Also, during this time, baseball was low scoring and played defensively. Good pitching was emphasized and only a few runs were needed to win games. Then Ruth came and made hitting popular. He made the home run king. His ability to hit towering home runs enthralled the crowd and brought an excitement to baseball never seen before. Fans were drawn to Ruth because he could win games with one swing of the bat. His feats were the stuff of legends, such as his called shot in 1932. Whether this really happened or not is still debated. But he did call at least three shots. While playing for the Yankees in the 1928 World Series in St. Louis, Ruth was "booed cheerfully" by Cardinal fans as he trotted to left field to take his position. He grinned playfully and pointed beyond the right field wall, indicating the destination of his forthcoming hit. In three at bats he hit three home runs over this wall. He revived the game of baseball and easily became the most popular figure in the sport.
During his time with the Yankees, Ruth saw his salary increase dramatically. He went from making $10,000 with the Red Sox to making $80,000 with the Yankees. This salary was more than President Hoover made. When informed of this, he told reporters, "but I had a better year than Hoover." With his money, Babe indulged in the high life. He stayed in a twelve-room suite at the Ansonia Hotel, the plushest hotel in New York, and was constantly carousing and spending loads of money. He drank heavily and was a favorite at bawd houses and bars across the country. He once broke a batting slump by staying out all-night and partying, and in the game the next day he hit two home runs. Teammates said he would eat half a dozen hot dogs and as many beers at a time. He even owned his own cigar company that manufactured Babe Ruth cigars, with his picture on the wrapper of each one. His weight ballooned during this time. With the Red Sox, he was a 6'2″, 175-pound athlete that can run all day. With the Yankees, his weight got up to 220 pounds from the effects of his constant partying.
Even though he partied quite a bit, the fans still adored him. Because of his rough childhood, Ruth had a soft spot for kids, and there was nothing he wouldn't do for them. He was constantly visiting children in orphanages and hospitals, and he never refused a request or visit to help kids. He also never refused to sign an autograph, and encouraged kids to flock around him. After a World Series game while he was with Boston, Ruth went and played baseball with some kids in a sandlot.
Things like this made fans adore the Babe, and people looked past his indulgent lifestyle. He loved to spend money, and he was always giving to others. He would tip waiters $10, which was what most people made in one day of work. One time he found out that the hotel he was staying in did not have a piano, so he bought the hotel a piano and had it delivered while he was still there. He also bought Brother Mathias a new car.
The indulgent lifestyle may have been overlooked, but it soon caught up with him. His heavy drinking and smoking affected his career, and just before retiring he was diagnosed with nasopharyngeal carcinoma, which is cancer of the upper throat. Alcohol and tobacco in combination are the primary causative factors in this disease. Doctors performed surgery and gave him radiation treatments, but the treatments were unsuccessful. Ruth was released from the hospital in 1947 and allowed to go home and live out his last days. The cancer had metastasized and there was nothing doctors could do for him. In 1948 the Yankees celebrated the twenty-fifth anniversary of Yankee Stadium, "The House That Ruth Built." The Babe attended the event, but he looked like a shadow of the man he once was.
In the celebration of the anniversary, members of the Ruth's 1923 team played an exhibition against veterans from other years. Ruth was too frail and sick to take part in the festivities. Friends had to help him into his old uniform, which hung on his body like a tent. When Ruth was announced to the crowd to come on the field, he received a thunderous ovation. Ruth had to use a bat as a cane to walk out to home base. He got in front of the microphone to speak, and his voice was but a little rasp because the cancer had damaged his larynx. In his last speech, he told the crowd,
Thank you very much ladies and gentlemen. You know how bad my voice sounds. Well, it feels just as bad.
Later, sitting in the locker room, Joe Dugan came up with a beer for Ruth and asked him how things were. "Joe, I'm gone," he said, and he began to cry. Later that year Ruth would die at the age of fifty-three. During his viewing, 100,000 fans came to Yankee stadium to pay their respect to Ruth, and men held up their kids to get one last look at Ruth. This was the sad end for the legendary man.
---
Curt Flood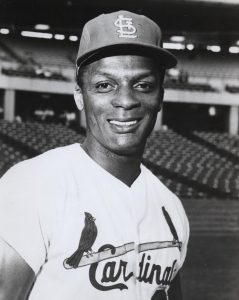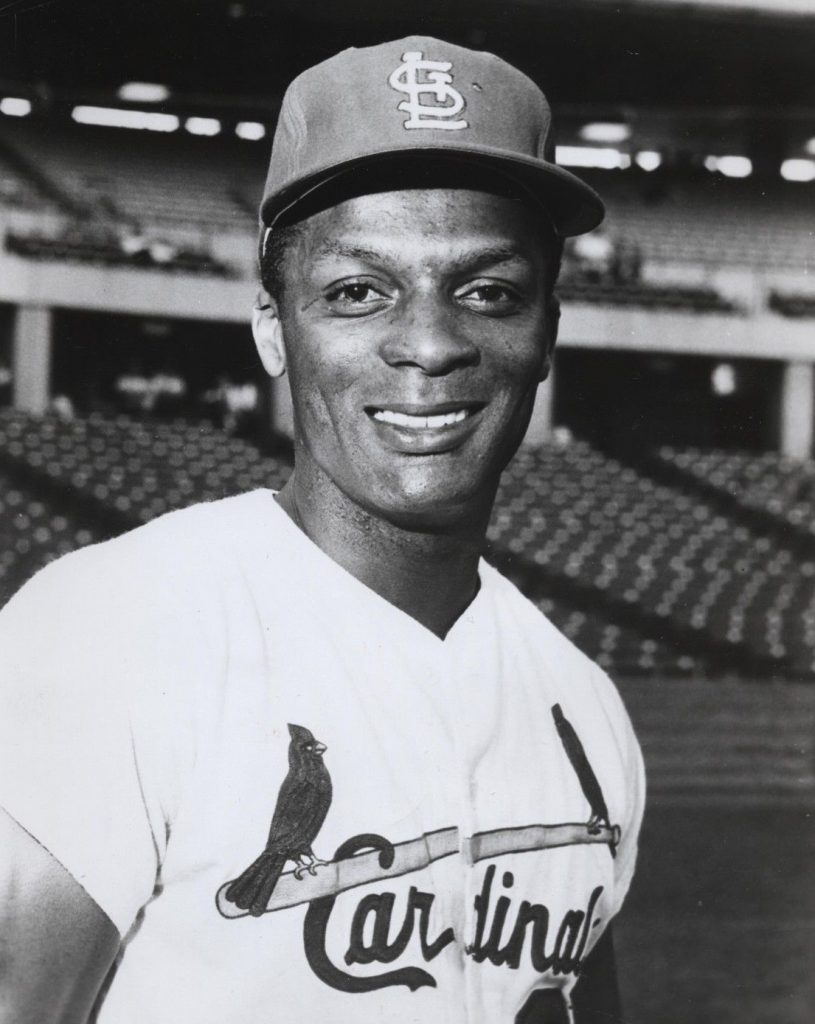 Can there be a $90,000 a year slave? Curt Flood thought so, and his epic battle against major league baseball paved the way for what is the prosperous free agent market that so many baseball players enjoy today. This same market that is taken for granted today cost Flood his major league career and, at the time, gave him a bad reputation in the eyes of Americans. And though American opinion about Flood has reversed over time, his funeral after he succumbed to throat cancer in 1997 drew no attendance from current major leaguers who benefit from the sacrifices Flood made.
Curt Flood was born in 1948 to a poor family in Houston, Texas. One of six children in the Flood family, Curt faced the danger of falling into a life of crime like older brother Carl or most of his friends. But after he stole a truck and crashed it, Curt realized the stupidity of his actions and began to concentrate on baseball and art as a way to avoid trouble and keep himself clean. And he excelled in both. Very athletic, Flood managed to escape poverty and find a career in baseball. At only 5′ 7′ and 140 pounds, the odds did not seem in Flood's favor to succeed. But his determination made up for what his physique lacked.
When Flood first decided to pursue a baseball career, friends and coaches warned him not to get his hopes up. He had two things against him: he was small and he was black. But in 1956, after high school, Flood signed a contract for $4,000 with the Cincinnati Reds Organization. His first team was one of the Red's minor league teams located in the South, and Flood experienced severe racism as well as a lack of confidence from his coaches. Not much was thought of the scrawny boy. But by the end of his first season, Flood had batted .340 and hit 29 home runs and even saw some major league action with the Reds. He thought the good season would bring him more money and a shot at the big leagues, but he was given the same pay next year and was not promoted to a higher team in the organization. The following year brought the same disappointment: a good season but no appreciation from management. It was at the end of the season that Flood also learned that he was traded to the St. Louis Cardinals.
With the St. Louis Cardinals, Flood's career took off. The decade of the sixties saw Flood become one of the best players in that era of baseball. He quickly piled up awards and records. He was one of the most consistent hitters in the sixties and hit over .300 six times. In 1964 he lead the league in hits with 211. As good a hitter as he was, he was an even better fielder. In 1968 Sports Illustrated put him on the cover with a caption reading "The Best Centerfielder in Baseball," pronouncing him better than Willie Mays and Roberto Clemente. He won the Gold Glove Award seven times and set Major League records of 226 consecutive games without an error and 396 chances without an error. His team also took off, winning three pennants and two World Series titles. The sixties saw Flood hit his peak. But at the end of the decade he was traded to the Philadelphia Phillies.
Flood was happy in St. Louis. He was a team captain and he was producing big numbers. When he was told he was traded to the Phillies, he was less than excited about the deal. "I was leaving one of the greatest organizations in the world at the time for what was probably one of the least liked." To Flood, Philadelphia was the "northernmost southern city" and he had no intention of playing there. He decided he would fight the trade.
Up to this time, Major League baseball contracts had a reserve clause set in them. The reserve clause was that part of the standard player's contract which bound the player, one year at a time, in perpetuity to the club owning his contract. Flood saw this part of the contract as a violation of his thirteenth amendment rights barring slavery and involuntary servitude. He decided to take Major League baseball to court and challenge the reserve clause. He wrote a now famous letter to then Commissioner Bowie Kuhn to state his position.
After twelve years in the Major Leagues, I do not feel I am a piece of property to be bought and sold irrespective of my wishes. I believe that any system which produces that result violates my basic rights as a citizen and is inconsistent with the laws of the United States and of the sovereign States. It is my desire to play baseball in 1970, and I am capable of playing. I have received a contract offer from the Philadelphia Club, but I believe I have the right to consider offers from other clubs before making any decisions. I, therefore, request that you make known to all Major League Clubs my feelings in this matter, and advise them of my availability for the 1970 season.
Flood then sat out the 1970 season and took his case to court. Kuhn v. Flood went all the way to the Supreme Court. Flood's lawyer, former Supreme Court Justice Arthur Goldberg, argued that the reserve clause violated anti-trust laws by depressing wages and limiting a player to one team. The attorneys for Major League baseball argued the clause was a tradition and was for the good of the game. In a 5-3 decision, the Supreme Court ruled in favor of Major League baseball, saying that baseball was exempt from anti-trust statutes. Later, in 1975, the court reversed its decision and free agency as it is known today was set in motion. But this did not help Flood, who lost his career and large amount of money in his trial. He sat out the 1970 season while his trial was being settled. He then signed with the Washington Senators in 1971 but retired after only thirteen games.
Flood not only lost money, but he also lost favor with America during the trial. Many could not believe Flood's audacity and slandered him in newspaper articles for taking on baseball. It is only many years later that public opinion has turned to side with Flood and what his stand accomplished. Now Flood is seen as a hero and patriot for his efforts to give the player a right to have a say in whom he plays for, and how much he makes.
After he retired from the Washington Senators, Flood spent the next years in Europe running a tavern in Majorca, Spain. Here he picked up a drinking habit that he battled with for many years before finally beating it in 1978. The drinking, along with his cigarette habit, likely were the contributing factors which produced a diagnosis of inoperable throat cancer. It was after this diagnosis that baseball finally showed Flood some respect when the Baseball Player's Association paid the medical bills for the last year of Flood's life. Curt spent many months before his death at the UCLA Medical Center fighting his cancer, but on January 20, 1997, Flood lost his battle and died of pneumonia. At the funeral, Tito Fuentes wondered why none of the current players came to pay their respect. He said, "I'm sorry that so many of the young players who made millions, who benefited from his fight, are not here. They should be here."
Off the field, Flood was as great a man as he was a player on it. He co-founded the Aunts and Uncles Organization with Cardinal lineman Ernie McMillan, which saw to it that all kids in the city of St. Louis had shoes to wear. He was also a talented artist, and his portraits are hanging in museums and in the houses of such people as August Busch IV, and the widow of Martin Luther King, Jr. After a brief stint as the color analyst for the Oakland A's, Flood spent much of his time running a home for disadvantaged youth in Los Angeles. Of all the millionaires Curt Flood helped make, when Flood succumbed to cancer last January, not a single contemporary player attended his funeral. Not Shaquille O'Neal, he of the $110 million free-agent contract with the Los Angeles Lakers. Not Chad Brown, of the $24 million free-agent contract with the Seattle Seahawks. Not Albert Belle of the more than $50 million free-agent contract with the Chicago White Sox. Not anyone. Sadly, Flood experienced in death the kind of neglect and solitude he once knew in life.
---
Brett Butler
A Holy Hitter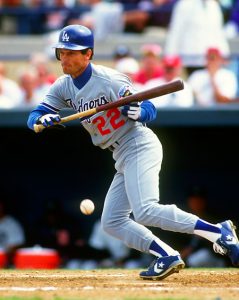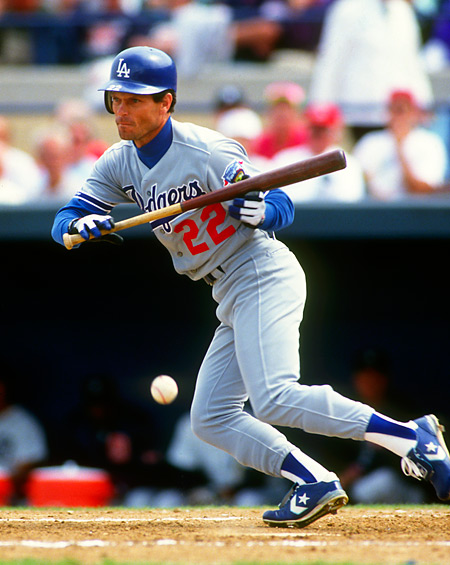 Brett Butler has overcome many obstacles in his life. On the baseball field, Butler succeeded where he should have failed. Considered too slow and not talented enough to make it to the big leagues, Butler proved skeptics wrong and had a brilliant career in Major League Baseball. Even more important, off the field Brett Butler won a battle for his life. Butler overcame life threatening oral cancer and not only successfully returned to the field to finish his career, but also successfully influenced others to quit using tobacco.
Butler was born in 1957 in Los Angeles, California. At 5'9″, 155 pounds, Butler was under-sized to play sports. On his high school team, he was not even a full time player on the varsity baseball team, but that did not deter Butler. Though he was small and not the most talented, Butler worked very hard at baseball and eventually became a two time All-American at Arizona State University. But his hard work was not enough to impress scouts, and in the 1979 Major League Baseball draft Butler fell all the way to the twenty-ninth round, where he was drafted by the Atlanta Braves. Though disappointed, Butler set out to prove all the scouts wrong.
After a year in the minors, Butler was called up to the big time. In 1981 he made his debut with the Braves, and got a hit at his first at-bat. This was just one of many more to come, but it was also special because it was a sign that he was going to be a force to reckon with. In the following years with teams such as the New York Mets and Los Angeles Dodgers, Butler enjoyed much success and became one of the best lead off hitters in the majors. For his career, Butler is one of only 26 players to have more than 2,000 hits and 500 steals. He was an All Star in 1991 and has led the league in different years in many different categories such as hits, runs, triples, walks, and games. But all his great statistics on the field could not save him from a tragic event off the field.
In 1996, right before spring training, Butler complained to Dodger's team physicians that he was having trouble with a sore throat and swollen neck. The doctors recommended that Butler have a tonsillectomy, but he did not want to miss spring training and decided he would tough it out. Throughout spring training Butler was given antibiotics, steroids, and medications to help fight the pain, but he never felt better.
The pain was tough, and Butler questioned whether he could endure it. When he first heard he had cancer, his first thoughts were about his funeral, not his life after the disease. His pain was immense, so bad that he had to swab his mouth with xylocaine, an anesthetic used by dentists to numb pain, before he could eat a meal. Swallowing became a challenge, and anything involving his mouth was painful. But Brett had a strong support system, and with their help he endured the pain. His wife would not let him talk about dying, and his daughter wanted to take away his pain. She told him, "Daddy, I prayed for God to give me your cancer. I know I can handle the pain but I don't like to see you in it." The only words Butler can say when he thinks of this support is, "Now that's what true love is all about."
The doctors decided they should remove his tonsils. When doctors went to perform the surgery, they were surprised to find a plum-sized tumor in the right tonsil. The tumor was removed and identified as a Squamous Cell Carcinoma and was found to be malignant. Doctors also found that the lymph nodes around Butler's neck were also involved. The cancer had spread from his tonsil to these nodes. The doctors removed the lymph nodes and after surgery Butler underwent radiation treatment. The treatment was successful, but for the rest of his life Butler must sip on water because the radiation treatments destroyed the saliva glands in his mouth, his constant reminder of the battle he fought.
In less than four months, a determined Butler was back on the field. In his first game back with the Dodgers, Butler came to the plate and was given a standing ovation by the 50,000 fans that had come to the game. An individual with strong religious beliefs, Butler credits his miraculous recovery to his faith in God. He says, "God doesn't give us more than we can handle if we just have enough faith to trust him." And while Butler's rapid recovery is miraculous in itself, just as important is the influence his cancer has had on other tobacco users. He has become an advocate agai