Please note that OCF has included this very extensive background white paper from the CDC on our site because it contains a wealth of valuable information.
HOWEVER – THIS PAPER CONTAINS A GREAT DEAL OF INFORMATION THAT IS NO LONGER COMPLETELY CURRENT, AND IN PARTICULAR, STATISTICS AND OTHER NUMBERS QUOTED WITHIN ARE SIGNIFICANTLY OUT OF DATE. The information that it contains related to the HPV virus is also not reflective of our current understanding of this etiology.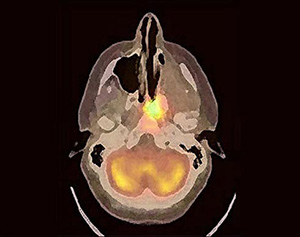 This detailed oral cancer information was compiled and reviewed for the Centers for Disease Control, by the large group of individuals whose names follow. It was originally prepared for the National Strategic Planning Conference for the Prevention and Control or Oral and Pharyngeal Cancer.
For more than five decades cancer has been the second leading killer of Americans. Each year, both newly diagnosed cases and the number of deaths due to cancer increase. In 2021, the American Cancer Society estimates that more than 2,000,000 new cases will be diagnosed and that more than a half million people will die. Many of these cancers can be prevented through lifestyle choices that reduce one's risk for the disease. Oral cancer, the focus of this document, is an example of a largely preventable disease that in most instances can be linked to behaviors that include long-term tobacco use, heavy use of alcohol, and a poor diet.
More than 54,000 (EST 2022) Americans will be diagnosed with oral cancer this year. For some time, the 5-year survival rate for this group of cancers has been about 50%, despite advances in surgery, radiation, and chemotherapy. In addition to premature death, the morbidity associated with the disease, the mental anguish of patients, family and friends, and the financial costs make oral cancer a major public health concern. Therefore, it is a high priority to lower the number of new cases of oral cancer as well as to reduce its morbidity and mortality. It is a challenge that will take us to well into the future..
Prevention of oral cancer is critically important and can be accomplished in four ways, by (1) understanding cause-and-effect and modifying associated risks; (2) recognizing and controlling precancerous lesions; (3) establishing the earliest possible diagnosis and administering timely and appropriate therapy; and (4) effectively managing the complications of treatment.
A consortium of health agencies, led by the Centers for Disease Control and Prevention and the National Institute for Dental Research/National Institutes of Health, have established objectives, goals, and programs to carry out the mission of reducing morbidity and mortality from oral cancer. As a first step, the CDC held a workshop to asses the scope of the situation, leading to this position paper. The second step is a national conference, to set forth recommendations for public action. These recommendations and strategies will be compiled and disseminated by CDC and its partners. Follow through on the commitments made by the individuals and groups assembled at the conference will be the next step in making the prevention and early detection of oral cancer more of a priority in this country.
These background papers on oral cancer complete the first stage in this effort. They have been prepared to cover all aspects of this disease by experts, representing a comprehensive array of specialties and expertise. The intent was to produce a realistic, brief, and factual status report that proceeds logically from epidemiology to rehabilitation.
As the incidence of oral cancer remains stable, the demographics are changing, with a progressive increase in women. Several decades ago the male-to-female ratio approximated 10 to 1; the ratio is now about 2 to 1. This shift is due in part to increasing tobacco and alcohol consumption among women, in part to increasing longevity. Senior citizens now account for about 13% of the U.S. population, and most are women. Among known risk factors, aging appears to have the greatest association with carcinogenesis. The aging process influences proto-oncogene products causing cellular dysregulation through alterations in cell growth and suppressor proteins. Hence, geriatrics and carcinogenesis go hand in hand. When you include the HPV etiology of oropharyngeal cancers discovered in 1999, the rates of oropharyngeal cancers allied to the oral environment skyrocketed.
Review of histologic types shows that the great majority of oral malignancies are squamous cell carcinomas; they arise from the mucosa of the oral cavity and are epithelial in origin. Since these are surface tumors, (with the exception of salivary glands and the infrequent occurrence of sarcomas), the location enhances early detection. However, by the time many oral cancers are diagnosed, they are already in advanced stages. Therefore, efforts to reduce oral cancer incidence, morbidity, and mortality must be multi-pronged and multi-disciplinary.
Understanding causative factors is a necessity as prevention strategies are developed. Aging is a risk factor without a solution, but effective control of two other risk factors, tobacco and alcohol consumption, is attainable and worthwhile. HPV vaccination, available since 2006 to young people not yet sexually active will, decades down the road. reduce the incidence of those viral etiology mostly oropharyngeal cancers. Research that produces a better understanding of precancerous subcellular markers will aid both prevention and early detection, thereby reducing morbidity and mortality. Studies of nutritional factors, chemoprevention, viral influences, and oncogene products also will be important.
Precancerous oral lesions, primarily leukoplakias and erythroplakias, occur frequently in adults. Developing useful approaches to their prevention, increasing the accuracy of diagnosis, discovering more biologic markers for these lesions, and improving their management will all further the goal of oral cancer control.
However, in spite of all attempts to prevent them, oral cancers will continue to occur. Therefore, early diagnosis combined with adequate treatment will continue to be critical for reducing the morbidity and mortality associated this disease. At the same time, clinical research continues in the use of surgery, radiation, chemotherapy, and immunotherapy to improve survival rates. Unfortunately, new, more aggressive approaches often produce more complications.
The quality of life—for both those who achieve a remission and those who may live for a period of time with persistent tumor—is a major concern. Alterations in saliva or taste, significant pain, oral and dental infections, mucosal and bone necrosis, and difficulties with mastication, swallowing, and speech may severely depress patients and often reduce their quality of life to an unacceptable level. Rehabilitation is critically important and should be considered at the time of treatment planning.
In summary, these background papers set the stage for an extremely important campaign to prevent and control a major factor affecting American wellness. The scientific foundation provided by these papers in the areas of oral cancer prevention, risk reduction, early detection, and treatment is the framework for developing a national action plan. This plan will focus on five key issue areas; (1) data collection, evaluation, and research; (2) professional education and practice; (3) public education; (4) public health policy's including HPV vaccination; and (5) advocacy, collaboration, and coalition building. This plan, which will be published and disseminated as conference proceedings, will serve as a springboard for moving this effort forward. Reducing risk, by eliminating tobacco and heavy alcohol use, will be a critical component of the overall strategy, as will health promotion and health education efforts targeted to a variety of audiences. The reality of increasingly scarce resources will challenge our efforts in the areas of research; however, increased awareness may stimulate the development of public health policy and the formation of creative new alliances between the public and private sectors. Although we have a tremendous challenge ahead of us, we owe it to ourselves and the public we serve to face it head on and to count our successes one at a time.
[fusion_accordion type="accordions" boxed_mode="" border_size="1″ border_color="" background_color="" hover_color="" divider_line="" title_font_size="" icon_size="" icon_color="" icon_boxed_mode="" icon_box_color="" icon_alignment="" toggle_hover_accent_color="" hide_on_mobile="small-visibility,medium-visibility,large-visibility" class="" id=""][fusion_toggle title="Authors" open="no"]
Gerry Barker, RDH , MA Oral Oncology Program University of Missouri – Kansas City Kansas City , Missouri
Ronald A. Baughman, DDS, MSD College of Dentistry University of Florida Gainesville , Florida
Norbert Burzynski, DDS School of Dentistry University of Louisville Louisville , Kentucky
Lewis Roy Eversole, DDS School of Dentistry University of California at Los Angeles Los Angeles , California
Kathy Flaitz, DDS University of Texas – Houston Dental Branch Houston, Texas
Karen Fu, MD University of California at San Francisco San Francisco , California
Harold Goodman, DDS, MPH Department of Veterans' Affairs Perry Point , Maryland
Robert O. Greer, DDS School of Dentistry University of Colorado Denver , Colorado
Richard B. Hayes, DDS, PhD National Cancer Institute National Institutes of Health Bethesda , Maryland
Alice M. Horowitz, PhD National Institute of Dental Research National Institutes of Health Bethesda , Maryland
Oral Cancer Foundation Science Advisory Board Member
George Kaugars, DDS Medical College of Virginia . Richmond , Virginia
James R. Marshall, PhD School of Medicine – State University of New York at Buffalo Buffalo , New York
Jack W. Martin, DDS, MS MD Anderson Cancer Center Houston , Texas
Parivash Nourjah, PhD Bethesda , Maryland
James T. Parsons, MD School of Medicine – University of Florida Gainesville , Florida
David Perrott, MD, DDS Massachusetts General Hospital Boston , Massachusetts
Douglas E. Peterson, DMD, PhD School of Dental Medicine University of Connecticut Farmington, Connecticut
Donald Shopland, National Cancer Institute National Institutes of Health Bethesda , Maryland
Sol Silverman, Jr., MS, DDS School of Dentistry University of California at San Francisco San Francisco, California
Oral Cancer Foundation Science Advisory Board Member
Scott P. Stringer, MD School of Medicine University of Florida Gainesville , Florida
Philip A. Swango, DDS, MPH Albuquerque , New Mexico[/accordion][accordion title="Reviewers
" style="style2″ collapsed="false"]
Myron Allukian, Jr., DDS, MPH Boston Department of Health and Hospitals
Boston, Massachusetts
Bruce Barker, DDS School of Dentistry – University of Missouri Kansas City , Missouri
Eugenio Beltran, DDS, DrPH Division of Oral Health
Centers for Disease Control and Prevention Atlanta , Georgia
Marc Bowden, DDS , MD American Board of Maxillofacial Surgery Lexington , Kentucky
Rene Brignoni, DMD Department of Veterans Affairs Decatur , Georgia
James Burns, DDS School of Dentistry Medical College of Virginia Richmond , Virginia
Dan Caplan, DDS School of Dentistry University of North Carolina Chapel Hill, North Carolina
Linda S. Crossett, RDH, BS Division of Adolescent and School Health Centers for Disease Control and Prevention Atlanta , Georgia
Donald Marianos, DDS, MPH Division of Oral HealthCenters for Disease Control and Prevention Atlanta , Georgia
Robert Mecklenburg, DDS, MPH Consultant, National Cancer Institute, National Institutes of Health Bethesda, Maryland
Robert Merritt, Office on Smoking and Health Centers for Disease Control and Prevention Atlanta, Georgia
Linda Neissen, DDS, MPH Baylor College of Dentistry Dallas, Texas
Marianne N. Prout, MD, MPH School of Public Health Boston University Boston, Massachusetts
K. Vendrell Rankin, DDS Baylor College of Dentistry Dallas, Texas
Mark M. Schubert, DDS University of Washington School of Dentistry Seattle, Washington
Joel Schwartz, DDS Howard University Washington, DC
Janet Yellowitz, DMD University of Maryland Baltimore, Maryland
Ian Zlotolow, DDS Memorial Sloan-Kettering Hospital New York, New York
Denise Fedele, DMD, MS Department of Veterans'Affairs Perry Point
Jonathan Garlick, DDS, PhD School of Dental Medicine State University of New York Stony Brook, New York
Richard Hastreiter, DDS, MPH Smileage Dental Services, Inc. Milwaukee, Wisconsin
Dan L. Jones, DDS, PhD Dental School University of Texas Health Science Center San Antoni , Texas
Daniel Karp, MD New England Medical Center Boston, Massachusetts
Donald C. Kramer, DDS, MS Department of Dental Oncology, MD Anderson Cancer Center Houston, Texas
Dushanka Kleinman, DDS, MScD National Institute of Dental Research National Institutes of Health Bethesda, Maryland
Dolores M. Malvitz, DrPH Division of Oral Health Centers for Disease Control and Prevention Atlanta, Georgia
Gene Sterritt, DDS, MPH Division of Oral Health Centers for Disease Control and Prevention Atlanta, Georgia
Scott Tomar, DDS, DrPH Office on Smoking and Health Centers for Disease Control and Prevention Atlanta, Georgia
Jonathan Wiens, DDS American Academy of Maxillofacial Prosthodontics, West Bloomfield, Michigan
Deborah Winn, PhD National Institute for Dental Research, National Institutes of Health, Bethesda, Maryland
David Wong, DDS Harvard School of Dental Medicine Boston, Massachusetts
Oral Cancer Foundation Science Advisory Board Member
Stephen Wyatt, DMD, MPH Division of Cancer Prevention and Control Centers for Disease Control and Prevention Atlanta, Georgia
Scientific Editors
Sol Silverman, Jr., MS, DDS
Oral Cancer Foundation Science Advisory Board Member
Deborah Winn, PhD
Managing Editor
Susan B. Toal, MPH Atlanta, Georgia
Project Manager
Barbara Z. Park, RDH, MPH Division of Oral Health
[/fusion_toggle][/fusion_accordion]